Internet Explorer is finally dead after 27 years. Microsoft will no longer support the once-dominant browser that legions of web surfers loved to hate – and a few still claim to adore. The 27-year-old application now joins BlackBerry phones, dial-up modems and Palm Pilots in the dustbin of tech history.
Internet Explorer debuted on Windows desktop computers in 1995 and by 2004, had cornered 95% of the market.But now, Google Chrome, Apple's Safari and Mozilla Firefox are dominant.Users wanting to stick with Microsoft are being directed to Microsoft Edge, launched in 2015, alongside Windows 10.
Internet Explorer's popularity was dented by the launch of faster browsers such as Chrome and Firefox, as users seized on new applications to navigate platforms including Google Search, Facebook and YouTube.
The rise of smartphones then arguably delivered the fatal blow, with Apple's pre-installed Safari browser and Google Chrome on Android phones helping to shift internet access and usage into the mobile realm. Mobile and tablet internet usage overtook desktop worldwide for the first time in October 2016,
Google Chrome account gets more than 60% of desktop internet usage worldwide, with Internet Explorer and Edge's combined share of the desktop market narrowly falling behind that of Firefox for the first time.
Microsoft released the first version of Internet Explorer in 1995, the antediluvian era of web surfing dominated by the first widely popular browser, Netscape Navigator. Its launch signalled the beginning of the end of Navigator: Microsoft went on to tie IE and its ubiquitous Windows operating system together so tightly that many people simply used it by default instead of Navigator.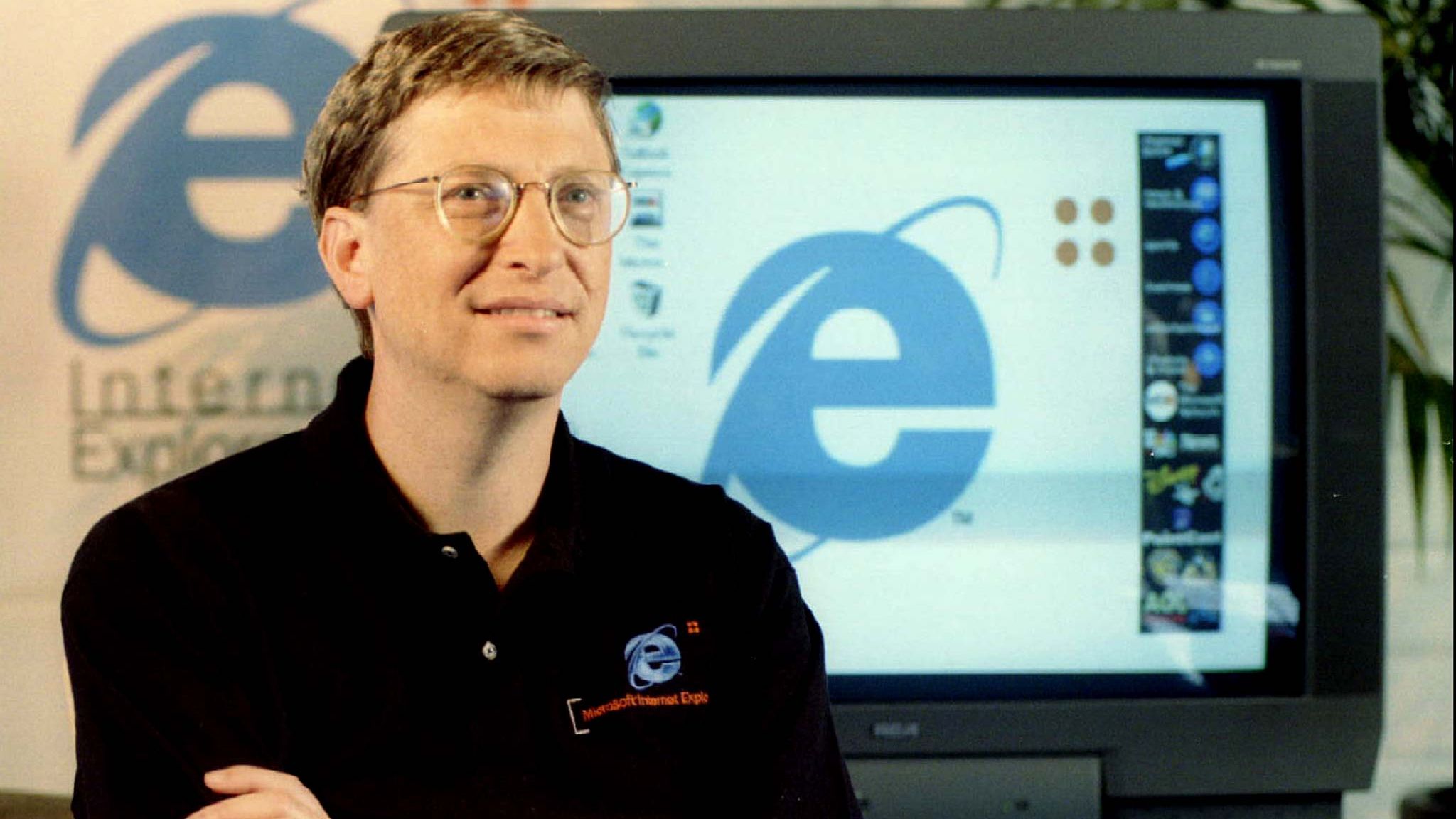 The Justice Department sued Microsoft in 1997, saying it violated an earlier consent decree by requiring computer makers to use its browser as a condition of using Windows. It eventually agreed to settle the antitrust battle in 2002 over its use of its Windows monopoly to squash competitors. It also tangled with European regulators who said that tying Internet Explorer to Windows gave it an unfair advantage over rivals such as Mozilla's Firefox, Opera and Google's Chrome.
Users, meanwhile, complained that IE was slow, prone to crashing and vulnerable to hacks. IE's market share, which in the early 2000s was over 90 per cent, began to fade as users found more appealing alternatives.
In 1995, Microsoft co-founder Bill Gates said the launch of Windows 95 – and Internet Explorer with it – would form part of the technology giant's efforts to ride the "internet tidal wave".
While his vision of "a microcomputer on every desk and in every home, running Microsoft software" might now seem reminiscent of a bygone era of dial-up internet, Internet Explorer is set to be remembered as one of the key tools that shaped the way the internet is used and accessed even today.
Today, the Chrome browser dominates with roughly a 65 per cent share of the worldwide browser market, followed by Apple's Safari with 19 per cent, according to Internet analytics company Statcounter. IE's heir, Edge, lags with about about 4 per cent, just ahead of Firefox.